This shop has been compensated by Collective Bias, Inc. and it's advertiser. All opinions are mine alone. #CurbsideConvenience #CollectiveBias
I
t's no secret that we live in a word of go faster, do more and jam-packed days full of work, errands, activities and events. We all have that one chore we dread, right?! My least favorite errand is grocery shopping...until lately.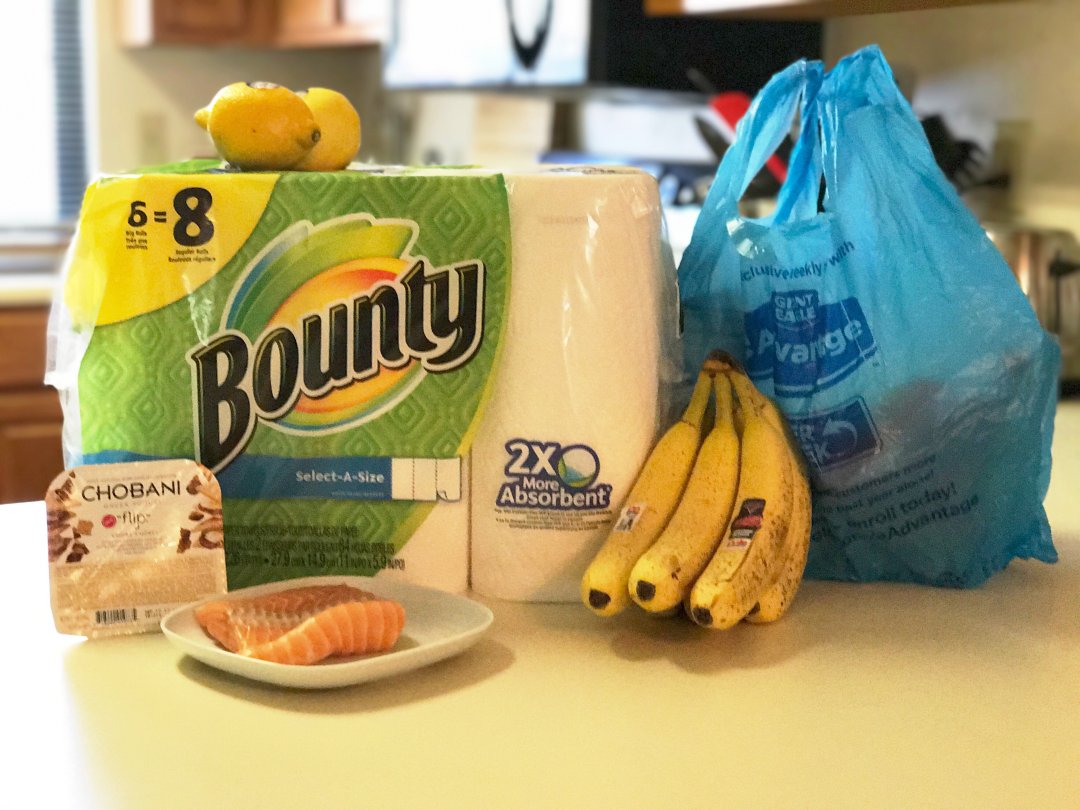 Giant Eagle Curbside Express
has helped change my attitude on grocery shopping, especially since I can do other household chores with all the time I save doing it.
The process is so easy.. I did my grocery shopping from my couch...IN MY PAJAMAS! It really doesn't get better than this. Before I got started on my shopping I threw a load of laundry in the washer, put a meal in the crockpot for our lunches the following day and then got to work on my grocery list.
Here's how I save time grocery shopping in 10 easy steps:
2. Find your closest location by entering your zip code, then select your store and let the fun begin.


4. I then browse the "On Sale This Week" section to make sure I'm getting all the good deals when they are available. It is SO easy to shop for produce and meat instead of aimlessly wandering the fresh fruits and vegetables like I tend to do. Search for what you want, and add to your cart. As you shop, your total will change in the top right corner showing you how many items are in your cart and your current total you will owe at checkout.
T
he fact that you can see what you already have by hovering over the cart image and viewing the summary to make sure you haven't forgotten anything is really convenient. You can spend as little or as much as you want on your grocery order, there is no limit or minimum purchase required, and you can even try the service for free- your first 3 orders are waived!! How's that for try before you buy?!
5. After you are done shopping you will go to the next part of the process, which is easier than ever to select your preferred date and time to pick up your groceries. With the Curbside Express you can determine when you shop, morning or night and pick up your order at a variety of different times that are convenient for you...it's great because you are in control!
6. You will get an e-mail after you finish your online order confirming your pickup time and showing your order summary. I opted to pay at the store during this particular order, in case I had any coupons to take with me.
From there, a personal shopper does the work for you, not a computer or automated system, which is why I thanked them for their help in the note section at the bottom, they are truly a lifesaver to my busy schedule!
7. During the little bit of time it took me to shop online for our groceries I was able to get other things done around the house which is a big timesaver, but it doesn't stop there. Normally, grocery shopping is a few hour adventure between creating lists, fighting the crowds at the store and wandering the aisles and checking out. When you get to Giant Eagle to pick up your groceries, it gets even sweeter.
There are several signs that direct you where to go and ensure that you're heading the right way to curbside convenience.
8.When you get to the designated area for Giant Eagle Curbside Express, there are more signs instructing you what to do, which are also listed in the e-mail confirmation you already received.
You will speak to a live person when you call the listed number on the sign, and if you allowed any substitutions in your order they will review them with you, or tell you what they are out of at the store...if anything. They were out of Orange Gatorade that I wanted in my order, so they asked if the Fruit Punch flavor was ok to replace it with.
9. An employee then brings out your order and get this...YOU stay in the car while they load your order for you, including bulk items and heavy products. It's all part of the convenience--saving you even more time. I was able to check some e-mails and get some things done while my order was taken care of for me.
Giant Eagle Curbside Express lets you have more time for things that matter the most...like spending time with family and friends, or preparing for your next gathering...it's SO easy!
10. Lastly, all you do is pay. If you opt to pay online, you still aren't charged until you pick up your order. You can give the employee any coupons and then pay right at your car.
Grocery shopping with
Giant Eagle Curbside Express
couldn't be easier, and my family is loving the benefits too...it means more time at home making delicious meals and hanging out together opposed to the few hours that are usually spent at the grocery store each week. There's more time for quick clean-ups, experimenting with new salmon recipes and my son doesn't even mind helping unload the car since I didn't have to drag him up and down the aisles of the grocery store. It's a win- win and I can't imagine doing shopping any differently from now on.
Tell me- have you ever shopped online for groceries? What are your favorite grocery hacks?