In the midst of planning a wedding, a bridal shower and my upcoming blogiversary I decided that this DIY project had to fit in somewhere. Prior to writing a blog and planning a wedding I thought that I had no crafty abilitites. It turns out that I not only can do these fun projects, but most often they turn out pretty good.
You will see theses cups come in to play during some blogiversary celebrating, which is coming up soon. I think these glasses are perfect for almost any occasion, because what event doesn't need sparkle and shine?!
You will need:
Clear plastic glasses
Spray adhesive
Craft glitter
Newspaper or scrap paper
To make:
1. I did a test spray to see how the adhesive worked to start. I held about 5 inches away from some newspaper and sprayed to check the consistency and strength of the spray.
2. Hold clear glass and spray an area of the cup. You don't want to spray near anywhere you will be drinking.
3. I sprayed starting at the bottom of the cup and working my way up from there.
4. If you wanted it to be perfect, you could tape off an area of the cup, but I wanted to spray the adhesive freely for a fun design.
5. Holding the glass over some newspaper, sprinkle the glitter over the adhesive so that it sticks.
6. Stand up on the paper and let dry 4-6 hours.
7. Cups are then ready for use.
These glasses only take a few minutes to prepare, so you can put them together quickly for a last minute get together if you wanted. I can't wait to use them for some celebrating soon.
Pro-tip: Don't get the adhesive on your fingers, it will leave you sticky for a few long hours.
Linking up with The Sequin Notebook gals for the monthly cocktail fun: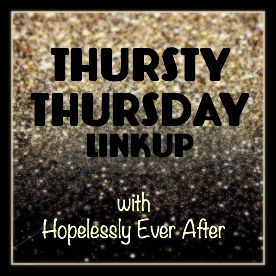 What's your favorite party DIY? What would you use these glasses for?