Welcome to Tuesday Pretties hosted by Niki from Glossy Blonde. I am so excited Niki asked me to be a guest co-host again and have some fun things to share with you today!
I go through phases with my nails. I like to try new things, such as the Nex Gen manicure I told you about last month. Then, I want to do my own nails every Sunday night from the comfort of my home.
One thing is for sure...I like trying new things. I tried a new nail polish that I am in love with. Zoya nail polish is inexpensive, goes on smooth and lasts about 2 weeks.
My Essie polish, while I love the colors, has not been lasting long at all lately. I simply don't have the time to paint my nails every few days. I was going through my massive supply of polish recently and found a bottle of Zoya that I have never used, so I tried it and loved the results.
A little info about Zoya polish:
-It goes on thick, but smooth and easy
-Takes more drying time than what I'm used to
Zoya's fall line has some amazing color and I can't wait to purchase a few. Sansa and Tiegen are stunning and are perfect fall colors. I always use the Revlon Colorstay GelShine Top Coat to help make my nails shiny and keep the color on longer. I swear by it.
I also wanted to share the most darling planner I received in my mailbox last week! I absolutely adore Brittany Fuson's work. I ordered her bridesmaid cards to ask my best friends to stand by me on my wedding day and also have some of her prints.
Necklace: Frou Frou & Frill found here
Each month has a fun, colorful design and the pages are adorned with fashionable females. Talk about girl power!!
I already marked off the most important date of 2015 ...more information to come about that later this week on the blog.
What's your favorite brand of nail polish?
Do you have a favorite planner?
~~~~~~~~~~~~~~~~~~~~~~~~~~~~~~~~~~~~~~~~~~~~~~~~~~~~~~~~~~~
Tuesday Pretties is a weekly link up where you can link up your Tuesday blog post containing pretty fashion, beauty, DIY, home design... really anything pretty!!
Requirements
2. Link up your pretties! (Be sure to link up to an actual post, not your blog's main page.)
3. Grab a button or link back! This helps others find the linkup, and the more linking up, the more new blog friends we can make!
4. Visit a few of the entries! It's a great chance for you to get to know other bloggers!
5. Spread the word via social media if you'd like! The more the merrier! Be sure to tag me (

@nikmariec

) and use the hashtag #TuesdayPretties!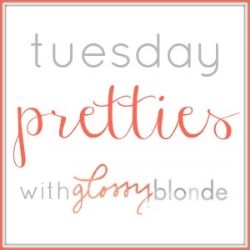 Interested in co-hosting? Shoot me an email at niki@glossyblonde.com for more info!