Hi all you fabulous people. I hope everyone had a great Monday and start to the week. It was rainy here and I didn't get any time to take some fashion posts like I wanted. ((Thumbs DOWN!))
Anytime I say that I think of the game in grade school we played before recess. Heads down, thumbs up. I will admit I cheated alot and peeked out the side under my armpit when my head was down. I would look at the shoes the person was wearing then guess the correct culprit of who put my thumb down. I wasn't the perfect little Catholic school girl....obviously--HA!
Anyways...today I am linking up with Niki from Glossy Blonde who is an absolute doll. Niki always has beauty posts full of awesome product information for us ladies. She is also a very sweet person in my encounters with her so far in blog world, so that's great too!
Let's get to it Tuesday. Time for some pretties!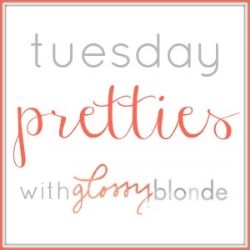 Today I want to share more about the best mascara ever. I have mentioned it a few times on the blog and if you're my friend reading this you probably see me sharing it once in a while, all the time.
Well, here's a little background for you. I am a mascara snob. No lie, no exaggeration. I have always loved mascara. I used to sit in the bathroom on the tub when I was a little girl and watch my mom curl her eyelashes and apply mascara. I was amazed at how it made your eyes look.
My mom let me try mascara for the first time in 8th grade and I have been hooked ever since. I will spend $40 on designer mascara from Sephora, Ulta or whoever wants to sell me some. I have tried everything from Benefit to Dior. I have asked for the Mascara Gift Sets from Sephora for Christmas that have 8 different types. I needed them all. I wanted to try them all.
Then...of course, I saw a post on Instagram.
An instagram friend (because that's what she is--we all have them these days, right?!) posted a before and after with this amazing mascara.
I couldn't believe my eyes. (pun sort of intended)
This was the greatest mascara results I have ever laid my eyes on. ( oops, I did it again & I love Britney Spears)
1. Apply a coat of your regular mascara (you don't have to do this, depends on preference)
2. Apply a few coats of the transplanting gel (looks like normal mascara) and coat your lashes well
3. Apply the natural fibers that will adhere to the gel
4. Seal with a final coat of the gel (to hold the fibers in so they don't flake)
5. Repeat for more dramatic lashes if desired (yes please!)
It can sound like a lot of work, but after day two you will be a professional. The fibers increase the volume of your lashes and they appear thicker. I often get asked if I am wearing falsies.
The mascara is $29 for an 8-12 week supply. I personally use this stuff about every day. If you only use it for special occasions ( a few days a week) or weekend dates and fun nights out it can last you up to 6 months!
Is it safe for contact users? Yes!
Is it hypo-allergenic? Yes!
Does it wash off easily with soap and water or face wash? Yes!
Is it water resistant? Yes!
Does it hold up in the pool, and through a sweaty work-out? Yes!
Yes, Yes, Yes...this stuff is amazing! I am not a direct sales girl. I only stand behind products I love and would only recommend something I truly believe in. In addition to my word, Younique offers a Love It Guarantee.
How nice is that for service and satisfaction?!
Please feel free to ask me any questions in the comments or contact me for more pictures, demos or information.
Want to order? Great...you can do that

here

.
Want to know more about Younique? Read up here.
Hope you all have a pretty ((awesome)) Tuesday!
What's your favorite mascara?